AWS Digital Scale 1000g x 0.1g Jewelry Gold Silver Coin Gram Pocket Size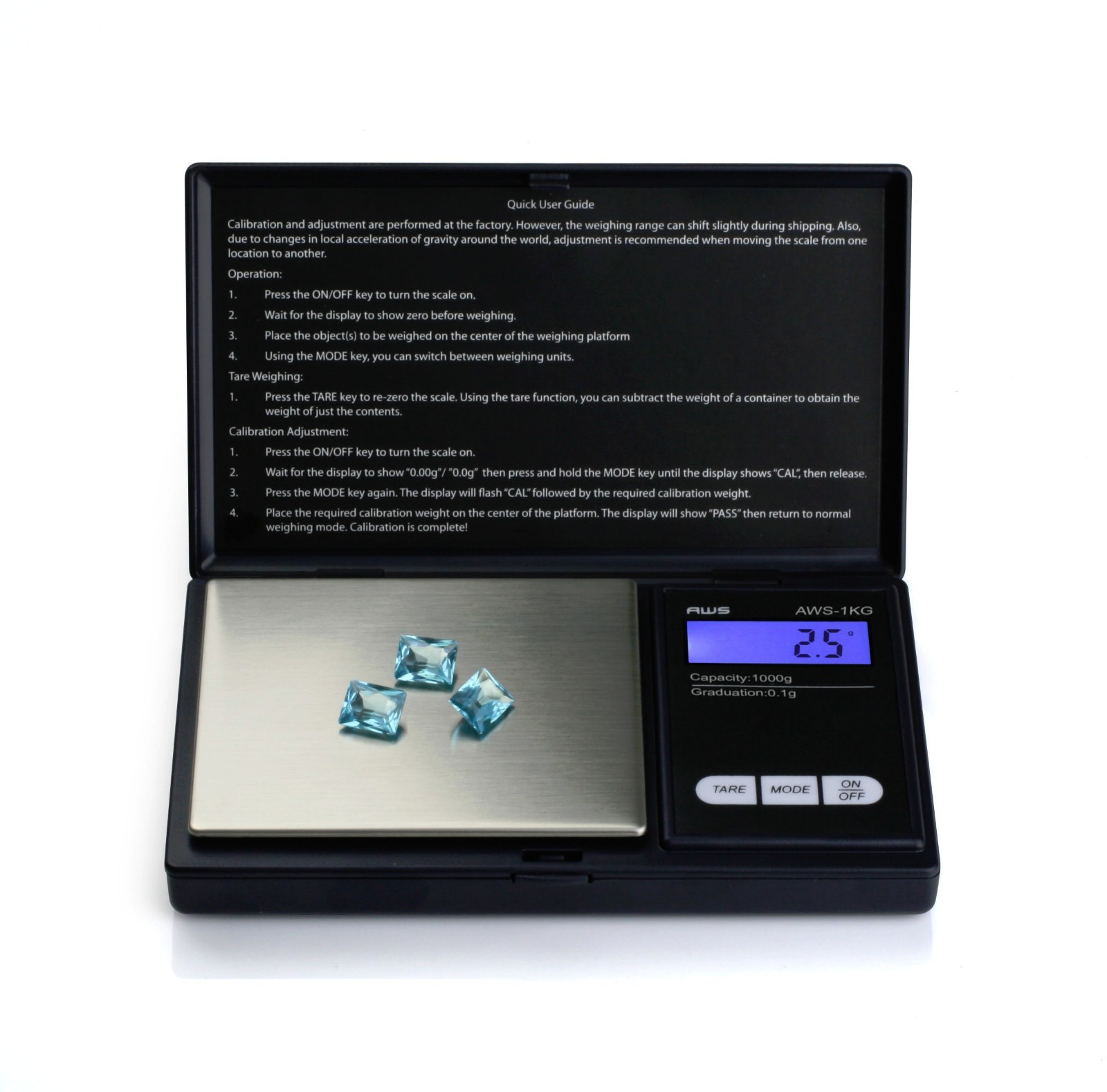 Brand New
Ships From Michigan
American Weigh Brand
1000g x 0.1g Digital Scale
(Currently shipping a Random Color scale)
(NOTE: You may see cheaper scales on eBay sold by sellers located in China or Hong Kong. These are off brands and good luck getting warranty on their scales when they fail also plan on 2 to 4 weeks delivery from these sellers.)
This American Weigh Brand scale is a well built durable portable scale that is loaded with features.
Stainless steel weighing tray for easy clean up
EASY to use large buttons
Large clear easy to read display with back light
Tare/Zero feature so you can weigh items in a container
Specifications
4 different weighing modes - g=grams, oz=ounces, dwt=pennyweight, ozt=troyounces
1000g capacity x 0.1g increments
35.27 oz capacity x 0.005oz increments
643.1 dwt capacity x 0.1dwt increments
32.15 ozt capacity x 0.005ozt increments
Minimum Weight Should be 1.0g or more
Weighing tray measures 2 1/2" x 3"
Scale measures 3" wide x 5" long x 3/4" thick
Operates on 2 AAA Batteries included
Scale has auto shut off after approx 2 minutes to save battery life
Calibration
All digital scales will need calibrating at some point. Most of our scales arrive calibrated and ready to use. Things that can effect calibration are general use, shipping, altitude, humidity ect. This scale will require a 500g calibration weight for proper calibration.  
SHIPPING
Shipping is 7.00 to any US address using First Class mail. This service usually takes 2 to 5 business days for delivery. We ship no later than 48 hours after the next business day after your payment is received or clears. 
Warranty
This scale has a 10 year warranty.
Summary
BRAND NEW!!
 1000g x 0.1g Scale
Shipping to Any US Address!!
Shipping Insurance!!
FREE Batteries Included!!
100% Satisfaction Guarantee!!
Free 10 Year Warranty!!
All for Only $37.00 Delivered!!